What can you encounter?
Becoming an expat is a wonderful experience but for many – men or women, adults or children, single or in a relationship / married – migrating and adjusting to expat life comes with emotional difficulties that could lead to loneliness, depression, anxiety, anger, stress, alcoholism, sleep disorders and more.
Apart from mental health problems, expats may also experience self-development or career difficulties (e.g. burnout), relationship problems, trust issues and others that could benefit from professional help.
Just arrived or already in The Netherlands for years
Are you new to the Netherlands or have you been here for years? I help people with expat & international backgrounds / experiences on issues ranging from anxiety to relationship struggles. Sessions are offered in: English, Dutch or French.
Areas of expertise / Do you want to explore personal growth
Adjustment difficulties, Marital / Relationship issues, Anxiety, Depression, Sexual/Emotional/Physical abuse, Loss and Bereavement, Expat issues (cultural adjustment difficulties), Trauma, Suïcidal feelings, Eating disorders, Low self esteem, Chronic pain, Stress and burn-out
Therapy approach, coaching, mediation, training
Systemic, Family systems, Relational, also Emotionally Focused Therapy, Psychodynamic, Cognitive Behavioural, Compassion Focused, Supportive Counselling, Psychoeducation, Mindfulness and Compassion for all kind of questions; Cliënt focus, Adult Individuals, Expats, Couples
Organisations / Corporates
Therapist Availability and Emergencies
You can request to speak to your therapist between appointments for a check-in. We can usually return the call within 24 hours. The fee for phone consultation of €2,- per minute. In the event of a true emergency, please call 112 or go to your nearest emergency room.
Process & agreements of Therapy
For best results, the first few sessions should happen every 1-2 weeks. When your situation has stabilized, the frequency of sessions can be reduced.
Some clients come frequently for long periods of time due to ongoing stressful situations, others come to therapy to solve a particular problem which may be finished in a few sessions. The frequency and duration of your therapy depends on your needs and what you are working on. Due to the uniqueness of each individual, we are unable to predict or guarantee a specific outcome or result.
Your therapist ensures that the sessions can start at the agreed time. If you arrive late, please keep in mind that the time will be deducted from the reserved time. At any time, if you feel that you are finished with therapy, please let us know. It's best to plan for termination and exchange feedback before stopping.
Your therapist has the right to terminate the therapy, but is obliged to inform you of the reasons.
Recording (audio / video) is not permitted unless this is part of the work process or is necessary for study and then only when both client and therapist agree.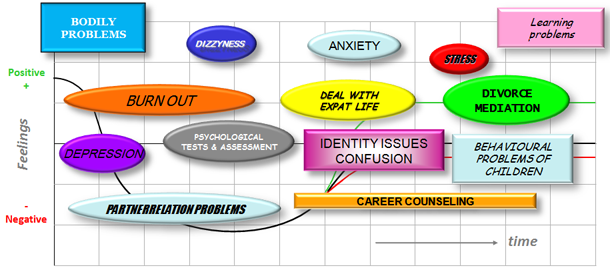 Practical information
  Fees
The fee for the initial intake screening is €130 (per 60 minutes for individuals) and € 195 for 90 minutes for couples/families).
The regular fee is €130 per 60 minutes of session is for individual or for couples sessions). Please refer to the website for a complete listing of the fees.
It is possible that there is an affiliation with Dutch healthcare companies for individual therapy, the Dutch healthcare companies don't cover relational issues and not all individual diagnosis.
Payments, therefore, need to be paid directly to SYNTAGMA.
Please contact your insurance company to inform whether you are eligible for (partial) reimbursement of the sessions. Please note that if you own your own business, sessions are tax deductible.
Payments should be made within 14 days of the invoice date. A reminder will be sent if the payment has not been received after 14 days. Payment is expected within seven days from the date of the reminder. Should a second reminder be necessary, there will be an additional fee of € 15 for administration costs.
Once you have booked an appointment, we reserve that time for you. For appointment cancellations and/or changes, please contact your therapist directly. We request a notice of at least 48 hours prior to the appointment (this does not include weekends or holidays).
Note! You will be charged for the missed appointment if the notification is less than 48 hours prior, unless due to an emergency.
Expats
Beroepsvereningingen
Birgitte is aangesloten bij de volgende beroepsverenigingen en netwerken.