Psychology & Therapy
Whether there are feelings of depression, listlessness, fear, insecurity, stress complaints, burnout, feelings of inferiority, identity questions, sexual problems, grief problems, assertiveness questions or career planning, therapy can help you regain control of yourself and the situation. It can help to understand your feelings and manage them in such a way that they are not "in charge" of your life, but that you are "in charge" of your feelings. When you regain control of your life, confidence and peace can return and you are better able to enjoy both yourself and your surroundings.
The therapy is based on three pillars: insight, experience and skills. You gain insight into the fact that these feelings are not isolated, but are related to certain situations, thoughts, experiences and habits (patterns). You will learn to make connections and understand when these feelings come into play. You gain insight into your blind spots and pitfalls, which can contribute to the fact that you get stuck and get into trouble. In addition to this insight, you will be taught alternative skills that will enable you to deal with yourself, your thoughts, feelings and situations in a different and better way. You learn to apply these new skills during therapy, so that you can have positive experiences. You take these new experiences with you to continue working at home, so that you regain more control over your life and can function optimally and enjoy life again.
Children are also offered help. In this case, the parents are always involved in the therapy. This can be for an intake interview, but this can also mean that the entire family will be present at the interviews. It can be about individual child issues, but also in the context of problems related to, for example, a divorce.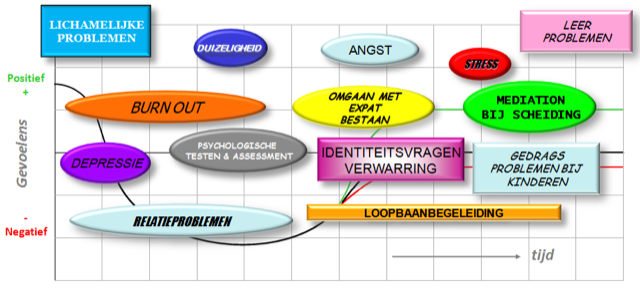 Psychology & Therapy
Testimonials
I feel in good hands with Birgitte. She is skilled and in possession of background knowledge and her own experience. She also shares this and that gives the training a personal touch in addition to content. For example, sharing poems, inspiring stories or personal experiences from your own life. This creates openness, warmth and accessibility in the session, in my opinion. It is never overly involved, where it does not become group therapy or goes too deeply into personal issues. It's about the now, the feeling and the being.
Anonymously
Birgitte taught me in EMDR therapy to cope and to forgive myself, I live in the present again instead of the past. The mindfulness training has ensured that I no longer overthink things. I make problems small and don't make them big. I've come back to the moment. It's not that the problems are all solved, it's more that I can handle the problems and have a positive outlook on life again.
Hans Wind
Although I was a bit hesitant about the group aspect beforehand, it turned out to add a lot to both the mindfulness training and the compassion training that I followed at Syntagma. Thanks to the very expert and professional guidance by Birgitte, both trainings have been extremely valuable to me! I have experienced Birgitte - also in my individual trajectory - as a very pleasant, open, down-to-earth, empathetic and driven psychologist and trainer. She analyzes quickly and sharply, knows how to create the right atmosphere, does not shy away from the difficult things, asks the right questions, uses humor in a pleasant way and provides practical tools to continue. Because Birgitte can draw on a solid theoretical background with a diversity of experiences, education and additional training, she can easily connect and switch and thus always find the most suitable route. It has helped me a lot in better listening to and acting according to my feelings, and in finding more peace, confidence and firmness. Many thanks for that! M.v.I.
M.v.I.
Psychology & Therapy
Professional associations
Birgitte is a member of the following professional associations and networks.
Newsletter
Do you want to stay informed of the latest news? Sign up for the 3-monthly newsletter by email!